2nd International Forum on Low Carbon Cities
Hybrid (Incheon, Republic of Korea/ Zoom)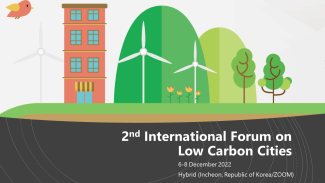 The United Nations Economic and Social Commission for Asia and the Pacific (ESCAP) and Incheon Metropolitan City are jointly organizing the 2nd International Forum on Low Carbon Cities on 6-8 December 2022, in collaboration with the CityNet, Climate Change Center, Green Climate Fund, ICLEI East Asia Secretariat, Incheon Climate & Environment Research Center, and Innovative Green Development Program (iGDP). 
As a unique occasion for building a partnership with existing networks on low-carbon, sustainable, resilient cities, the 2nd Forum will discuss solutions and stakeholder engagement towards a low-carbon society, facilitating information sharing and strengthening partnership and peer-learning among cities in North-East Asia and city networks.
More detailed information on the programme and registration will be updated in due course. 
Day 1

6 December 2022 (Tuesday)

09:00-09:30

Registration

09:30-10:35

Opening session

Remarks by Incheon Metropolitan City, UN-ESCAP, Green Climate Fund

Keynote speech

Incheon's pledge to achieve carbon neutrality by 2050  

Group photo

10:35-10:50

Break

10:50-12:30

Session 1 (Goals and institutions) Climate governance and roles/policies of cities

The session will have presentations from governments and cities on the policies and programmes in support of national commitments to the Paris Agreement and local government's voluntary commitments; and discuss the roles of cities in climate governance.

12:30-14:00

Lunch, hosted by Green Climate Fund

14:00-15:30

Session 2 (Solution 1) Nature-based and Innovative solutions

Nature-based solutions (NbS) have already been widely applied globally, for enhancing urban resilience and developing cities with better ecosystem services. Nowadays, more and more benefits are identified, while contributing to upscaling positive impacts to climate actions, and low-carbon strategies. This session gathers insights from city practitioners on various types of NbS activities taken at regional, city, and community levels.  

15:30-15:50

Break

15:50-17:20

Session 3 (Solution 2) Circular economy and Cities

The circular economy is a system solution framework that keeps resources in the economic system at the highest value possible. The session will listen to the local governments on their contributions to sustainable and circular societies at a city level.

17:30-

Dinner (invitees only), hosted by IC&E

Day 2

7 December 2022 (Wednesday) 

09:00-09:30

Registration

09:30-11:00

Session 4 (Solution 3) Green Financing

The session will offer a unique occasion to continue build and strength the partnership between financial institutions in the region with focus on: (i) establishing a common understanding of the gaps and available resources toward a low-carbon society among cities and city networks; and (b) sharing information and successful cases from cities/projects to strengthening partnership and peer-learning.

11:00-11:15

Break

11:15-12:30

Networking session

The session will introduce the ongoing and planned initiatives/activities of international and regional institutes in support of low-carbon cities.

12:30-14:00

Lunch, hosted by ESCAP

14:00-15:30

Session 5 (Engagement 1) Citizen & stakeholder engagement for sustainable cities

The session will discuss ways to engage citizens and other stakeholders and reflect their perspectives on policies and programmes for low-carbon cities.

15:30-15:50

Break

15:50-17:20

Session 6 (Engagement 2) Roles of regional cooperation

The session will discuss the roles of regional cooperation in achieving low-carbon societies and seek ways to synergize the work of city networks.

17:20-17:40

Closing

Day 3

8 December 2022 (Thursday) 

08:00-14:00

Field visit (invitees only)

National Institute of Environmental Research (Carbon zero building), and the Sudokwon Landfill Site