Back to Meetings
2nd International Forum on Low Carbon Cities
06 December 2022 - 08 December 2022
Hybrid (Incheon, Republic of Korea/ Zoom)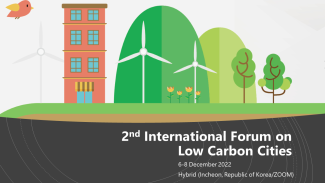 The United Nations Economic and Social Commission for Asia and the Pacific (ESCAP) and Incheon Metropolitan City are jointly organizing the 2nd International Forum on Low Carbon Cities on 6-8 December 2022, in collaboration with the CityNet, Climate Change Center, Green Climate Fund, ICLEI East Asia Secretariat, Incheon Climate & Environment Research Center, and Innovative Green Development Program (iGDP). 
As a unique occasion for building a partnership with existing networks on low-carbon, sustainable, resilient cities, the 2nd Forum will discuss solutions and stakeholder engagement towards a low-carbon society, facilitating information sharing and strengthening partnership and peer-learning among cities in North-East Asia and city networks.
06 Dec 2022
Remarks and keynote
Opening remarks: Ms. Armida Salsiah Alisjahbana, Under Secretary General of the United Nations and Executive Secretary of UN-ESCAP
Welcome remarks: Mr. Yoo, Jeongbok, Mayor of Incheon Metropolitan City
Congratulatory remarks: Mr. Ban, Ki-moon, 8th Secretary General of the United Nations and Chairman of the Ban Ki-moon Foundation For a Better Future
Congratulatory remarks: Mr. Yannick Glemarec, Executive Director of Green Climate Fund
Congratulatory remarks: Mr. Heo, Shick, Chairman of the Incheon Metropolitan Council
Keynote speech: Ms. Yoo, Young Sook, Chairperson of Climate Change Center and Former Minister of Environment of the Republic of Korea
Introduction of the Forum: Mr. Ganbold Baasanjav, Head, UN-ESCAP East and North-East Asia Office
Incheon's pledge to achieve carbon neutrality by 2045
Session 1. Climate Governance and Roles/Policies of Cities
The session will have presentations from governments and cities on the policies and programmes in support of national commitments to the Paris Agreement and local government's voluntary commitments; and discuss the roles of cities in climate governance.
Moderator: Mr. Kim, Yong-Gun, Director General, Climate and Air Quality Research Group, Korea Environment Institute
Panelists
Ms. Monique Nardi, Programme Officer, UNFCCC
Mr. Xu, Jun, Senior Engineer, Environment and Ecology Bureau, Chongqing, China
Mr. Ganbold Tsog, Director of the Capital City Air and Environmental Pollution Agency, Ulaanbaatar, Mongolia
Ms. Junko Akagi, Research Manager, Kitakyushu Urban Centre, Institute for Global Environmental Strategies (IGES), Japan
Ms. Kim, Se-heon, Director, Environment and Climate Policy Division, Incheon, Republic of Korea
Hosted by Green Climate Fund
Session 2. Nature-based and Innovative Solutions
Nature-based solutions (NbS) have already been widely applied globally, for enhancing urban resilience and developing cities with better ecosystem services. Nowadays, more and more benefits are identified, while contributing to upscaling the positive impacts of climate actions, and low-carbon strategies. This session gathers insights from city practitioners on various types of NbS activities taken at regional, city, and community levels.
Moderator: Ms. Son, Bong-Hee, General Manager, ICLEI Korea Office
Panelists
Mr. Suh, Seung Oh, Executive Director, Ramsar Regional Center – East Asia
Mr. Zou, Tao, Director, Department of Sustainable City Planning, Beijing Tsinghua Tongheng Urban Planning & Design Institute, China
Ms. Tserendulam Shagdarsuren, Director General, Climate Change Department, Ministry of Environment and Tourism, Mongolia
Ms. Sun, Yanyan, Senior Engineer, Centre for Wetland Conservation, Dongying City, China
Ms. Maja Jovanovic, Secretariat for Environmental Protection, City of Belgrade, Serbia
Session 3. Circular Economy and Cities
The circular economy is a system solution framework that keeps resources in the economic system at the highest value possible. The session will listen to the local governments on their contributions to sustainable and circular societies at a city level.
Moderator: Ms. Kim, Sohee, Secretary General, Climate Change Center
Panelists
Ms. Elaine Tan, Director, Centre for Liveable Cities, Singapore
Ms. Kang, Jinsuk, Director of Gwangmyeong City Upcycling Center, Gwangmyeong City, Republic of Korea
Ms. Shi, Yi, Shanghai Ecocycle Research Centre
Mr. Boo, Gicheol, Director of Living Environment Division, Jeju city, Republic of Korea
Hosted by the Incheon Institute
07 Dec 2022
Session 4. Green Financing
The session will offer a unique occasion to continue build and strength the partnership between financial institutions in the region with focus on: (i) establishing a common understanding of the gaps and available resources toward a low-carbon society among cities and city networks; and (b) sharing information and successful cases from cities/projects to strengthening partnership and peer-learning.
Moderator: Mr. Bapon Shm Fakhruddin, Green Climate Fund
Panelists and discussants
Mr. Amgad Elmahdi, Water Sector Lead, Green Climate Fund
Mr. Alessio Giardino, Senior Water Specialist, Sustainable Development and Climate Change Department, Asian Development Bank
Mr. Kwon, Ogeuk, General Manager, K-Water
Mr. Kim, Do-Kyoon, General Manager, K-Water
Mr. Byambasaikhan Bayanjargal, Vice Chairman, Business Council of Mongolia
The session will introduce the ongoing and planned initiatives/activities of international and regional institutes in support of low-carbon cities.
Moderator: Mr. Kim, SungEun, Economic Affairs Officer, UN-ESCAP East and North-East Asia Office
Organizations
Climate Change Center
Global Covenant of Mayors for Climate and Energy – Asia (GCoM Asia)
Green Climate Fund (GCF)
ICLEI East Asia Secretariat
innovative Green Development Program (iGDP)
CityNet
United Cities and Local Governments Asia Pacific (UCLG ASPAC)
World Smart Sustainable Cities Organization (WeGO)
Local Government Association for Climate and Energy Transition
Session 5. Citizen & Stakeholder Engagement for Sustainable Cities
This session will discuss the process of stakeholder engagement, with a focus on the private sector, youth, and inclusive initiatives. Speakers will present on their best practices and share success factors for citizen engagement. The path towards zero-carbon is one that must be inclusive and this session seeks to highlight the importance of inclusivity and leaving no one behind on the journey to zero-carbon cities.
Moderator: Mr. Paulie Mora, Senior Program Officer, CityNet
Panelists
Ms. Melissa Chin, Strategy and Analytics Manager, Think City
Mr. Kang, Dongryul, Network Coordinator for SDSN Youth
Ms. Andrea Valentine A. Villaroman, Climate Change Environmental Sustainability Department, Quezon City Government, the Philippines
Session 6. Roles of Regional Cooperation
The session will discuss the roles of regional cooperation in achieving low-carbon societies and seek ways to synergize the work of city networks.
Moderator: Mr. Cho, Kyeongdoo, Director General, Incheon Climate and Environment Research Center/ Incheon Institute
Panelists
Ms. Madelaine Arlene Alfelor Gazmen, Ambassador, United Cities and Local Governments Asia Pacific (UCLG ASPAC) and Former Mayor of Iriga City, the Philippines
Ms. Asih Budiati, Team Leader, Global Covenant of Mayors for Climate and Energy – Asia (GCoM Asia)
Ms. Sanjeevani D. Singh, Economic Affairs Officer, Environment and Development Division, UN-ESCAP
Ms. Alissa Raj, Deputy Regional Director for East, Southeast Asia & Oceania, C40 Cities
Closing remarks: Mr. Ganbold Baasanjav, Head, UN-ESCAP East and North-East Asia Office
08 Dec 2022
National Institute of Environmental Research and Sudokwon Landfill Site