Background
North-East Asian countries are home to many critically endangered species, a lot of which have extensive range of habitats across countries and even continents thus connect multiple countries into an ecologically connected community beyond national borders. NEASPEC member States identified six flagship species (Amur tiger, Amur leopard, Snow leopard, Black-faced Spoonbill, White-naped Crane and Hooded Crane), that are (critically) endangered and unique for the subregion, and adopted the NEASPEC Nature Conservation Strategy at SOM-12 in 2007. The Strategy provides an overarching framework for biodiversity conservation as well as specific conservation strategies for each of the flagship species. It also sets the overall goals to contribute to biodiversity conservation in North-East Asia by ensuring the survival of target species, promote transboundary and intergovernmental cooperation for nature conservation among NEASPEC member countries, and enhance coordinated mechanisms for the conservation of target species and their habitats. 
In line with the Strategy, NEASPEC has facilitated bi- and multi-lateral cooperation among member countries to institutionalize transboundary cooperation through various technical cooperation and research projects, targeting the transboundary areas along national borders where capacity and coordination is urgently needed, such as in the Tumen river estuary and Dauria International Protected Areas. 
NEASPEC aims to build and strengthen institutional arrangements on the conservation of flagship species and their habitats in support of the NEASPEC Nature Conservation Strategy, national biodiversity strategy and action plan, the Post-2020 Biodiversity Framework and the SDG 15 (Life on land).
North-East Asia Flagship Species
Click on the images to learn more about each species
Ecological connectivity
Connectivity conservation is regarded as one of the key responses to the destruction and fragmentation of natural habitats, by promoting the flow of ecological processes necessary for the provision of ecosystem services and ensures movement of wildlife from one habitat to another. Habitats can be physically adjacent to each other or ecologically connected by migratory species, and such differences in connectivity require different management and cooperation.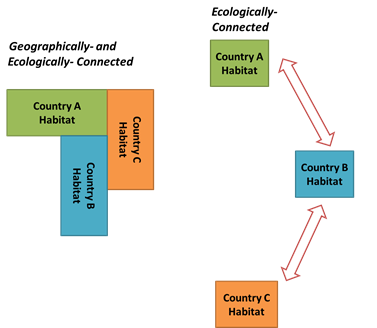 NEASPEC has been conducting and supporting activities to enhance both ecological and human connectivity by promoting coordinated actions, strengthening science-policy linkages and bi-/ multi-lateral cooperation among all stakeholders, and supporting the implementation of global, regional and national goals for sustainable development, especially environment-related SDGs.
---
Related SDGs