North-East Asia Clean Air Partnership (NEACAP)
Background
Air pollution has been one of the primary work areas of NEASPEC, starting with technical cooperation on mitigation of air pollution from coal-fired power plants in North-East Asia in three phases during 1996-2011. As an outcome of the project and to complement other regional mechanisms and cooperation, member States agreed to strengthen the science-to-policy linkages and take a holistic approach to address challenges faced by national and air pollutant management. Subsequently member States launched the North-East Asia Clean Air Partnership (NEACAP) at SOM-22 in 2018 to ensure protection of the environment and human health from air pollution in North-East Asia, following a step-wise approach as the completeness of relevant emission inventories and modeling capacities in member States vary.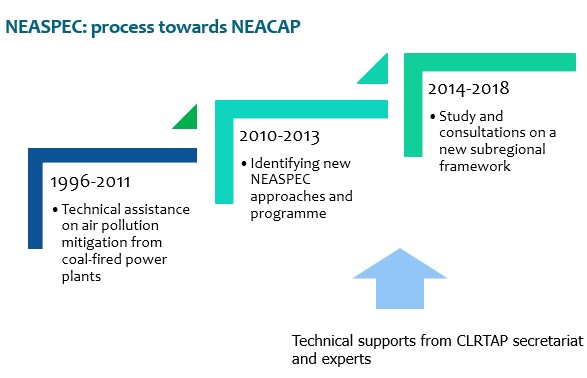 NEASPEC work on air pollution and process towards NEACAP 
---
About NEACAP 
The NEACAP would serve as a voluntary framework to address air pollution in North-East Asia, covering multiple pollutants: Particulate Matter (PM2.5 and PM10) and Ozone as well as other relevant pollutants including Sulfur Oxides (SOX), Nitrogen Oxides (NOX), Black Carbon, Ammonia (NH3) and Volatile Organic Compounds (VOCs). The partnership is expected to
Promote science-based and policy-oriented collaboration;
Enhance and further develop information and experience exchange;
Act as the key voluntary frameworks in addressing transboundary air pollution issues in North-East Asia;
Contribute, as appropriate, to the development of relevant national and subregional policies;
Promote knowledge on environmental and human health aspects of air pollution.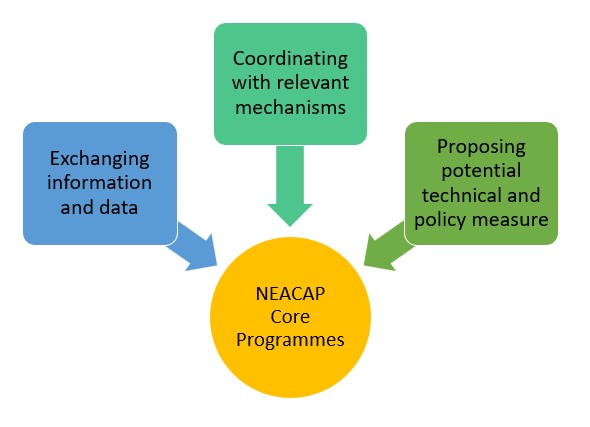 Platform for all stakeholders to promote science-based, policy-oriented cooperation on air pollution 
---
Related SDGs