Back to Meetings
Expert group meeting on desertification and land degradation and climate change: subregional approaches and activities
19 June 2023 - 20 June 2023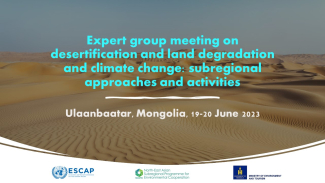 In line with the NEASPEC Strategic Plan 2021-2025, the expert group meeting aims to develop a subregional approach and propose activities on Desertification and Land Degradation (DLD) under NEASPEC for consideration by member States. To facilitate the discussion, the findings of the stock-taking study on the interlinkages of DLD and climate change and the stakeholder survey result will be presented as well.
19 Jun 2023
Opening and welcome remarks

Tour de Table

Introduction to the meeting
Session 1: Reviewing DLD in North-East Asia: current status, trends and impacts
In this session, experts will share insights on the status, trends and impacts of DLD faced by countries in North-East Asia and discuss policies in place to prevent DLD.
Presentation by experts on the status and trends of DLD

Discussion
Session 2: Identifying the Challenges: Drivers and Risks of DLD in North-East Asia
With the aim to identify key issues to be addressed by NEASPEC, the session will discuss the main drivers of DLD in North-East Asia and future risk factors such as climate change, among others.
Presentation of NEASPEC stock-taking study

Presentations on drivers and future risks

Discussion
Session 3: Collaborating for change: Formulating a subregional approach and potential activities for consideration of member States
The session will discuss tentative NEASPEC activities to address DLD in North-East Asia, avoiding duplications and creating synergies with other existing platforms such as DLDD-NEAN.
Presenting survey outcomes

Reviewing existing platforms and gaps/niches for NEASPEC

Discussing tentative NEASPEC activities in 2024-2025
20 Jun 2023
Field Trip to Gobi Desert