North-East Asia Clean Air Partnership (NEACAP)
With support from NEASPEC member States, the new partnership "NEACAP" was finally approved and launched in the 22nd SOM in October 2018. The NEACAP would serve as a voluntary framework to address transboundary air pollution in North-East Asia, covering multiple pollutants: Particulate Matter (PM2.5 and PM10) and Ozone as well as other relevant pollutants including Sulfur Oxides (SOX), Nitrogen Oxides (NOX), Black Carbon, Ammonia (NH3), and Volatile Organic Compounds (VOCs). The partnership is expected to
Promote science-based and policy-oriented collaboration;
Enhance and further develop information and experience exchange;
Act as the key voluntary frameworks in addressing transboundary air pollution issues in North-East Asia;
Contribute, as appropriate, to the development of relevant national and subregional policies;
Promote knowledge on environmental and human health aspects of air pollution.
NEACAP not only complements existing subregional mechanisms, such as Long-range Transboundary Air Pollutants in Northeast Asia (LTP) and Acid Deposition Monitoring Network in East Asia (EANET), but also supports new science-based and policy-oriented cooperation.
Platform for all stakeholders to promote science-based, policy-oriented cooperation on air pollution
Click on the image to expand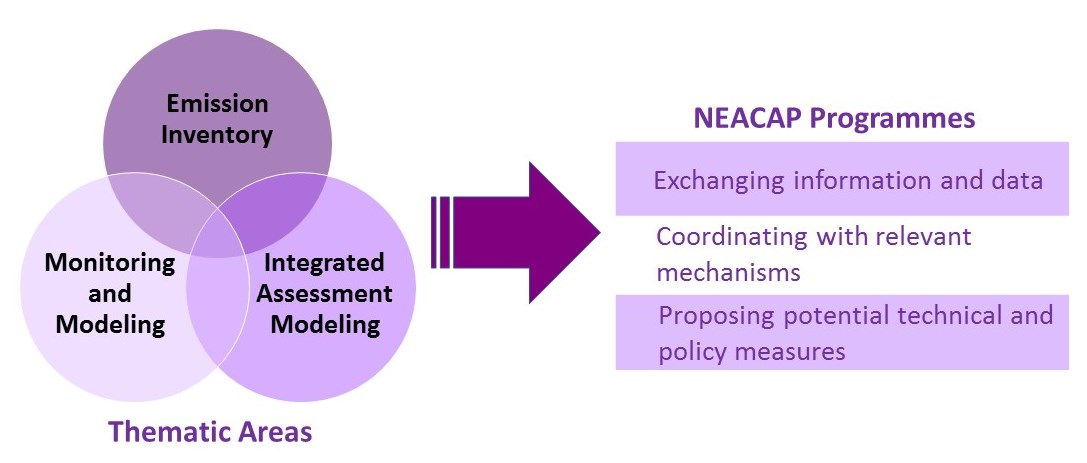 Project History
Click on the "+" to learn more about our past projects and events
A holistic subregional framework for sustained cooperation on TAP, built on the need the need for strengthening science-based, policy-oriented cooperation that builds connections between science and policy, etc.
The project aimed to enhance cooperation on assessment and mitigation of transboundary air pollution in the subregion through the promotion of common methodologies and establishment of a framework which would function on a continual basis.
Relevant Meetings
| | | |
| --- | --- | --- |
| Expert Group Meeting on Development of the Technical and Policy Frameworks for Transboundary Air Pollution Assessment and Abatement in North-East Asia 1 May 2014, Incheon, Republic of Korea | Consultations on Modeling of Source-Receptor Relationship of Transboundary Air Pollution 18-21 March 2015, Busan, Incheon and Beijing | Modeling of source-receptor relationship of transboundary air pollution by Scientific Research Institute for Atmospheric Air Protection (SRI Atmosphere)March 2015-Nov 2015 |
| Consultations with LTP experts on the preliminary modeling results of SRI Atmosphere (at 18th and 19th Expert Meeting of LTP Nov 2015 and Nov 2016 | Preparation of technical papers to identify potential roles of NEASPEC and a new subregional framework on selected areas(Including emission inventory, monitoring, modeling, integrated assessment, and science-policy linkages) | Expert Consultation Meeting on NEASPEC Transboundary Air Pollution Project 8 December 2016, Seoul, Republic of Korea |
A series of assessments and consultations under NEASPEC spanning from 2012 demonstrated the need for strengthening science-based, policy-oriented cooperation that promotes a comprehensive approach covering all components of transboundary air pollution management, builds connections between science and policy, and provides channels for open and effective exchange of knowledge and information.
The project was implemented with Asian Development Bank to increase technical capacity of coal-fired power plants in China and Mongolia to reduce SO2 emissions and provided training including: emissions standards, emissions control, emissions monitoring.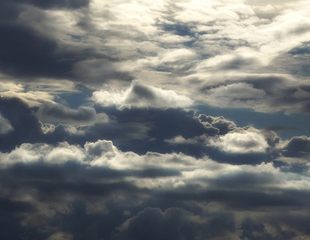 Transboundary air pollution has been recognized as one of the most serious environmental challenges in North-East Asia due to a range of factors, such as geographical proximity of member countries, increase of energy consumption, lack of sufficient technology, rapid urbanization, and inadequacy of existing regional frameworks that address the problem.
North-East Asia faces complex challenges from air pollutants such as PM2.5, PM10, and Ozone and their linkages with other pollutants including SOx, NOx, Black Carbon, NH3, and VOCs. For example, many North-East Asian cities have recently experienced sharp peaks of extremely high levels of air pollution, especially fine particulate matter in relatively short periods of time.
Click on the image to expand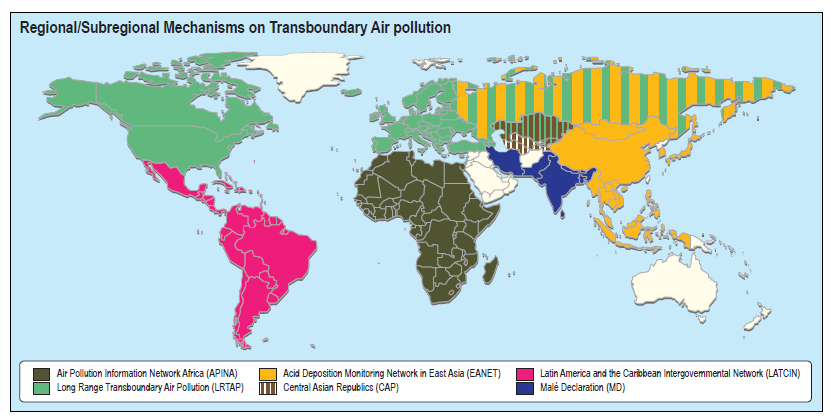 Presently, the only subregional coverage related to air pollution in the region is the Acid Deposition Monitoring Network in East Asia (EANET). However, the problem of air pollution goes well beyond acid deposition. Therefore, NEASPEC strives to enhance the scope of multilateral cooperation on transboundary air pollution by connecting subregional experts and existing collaborative mechanisms to generate a coordinated and integrated approach to policymaking and problem-solving.

North-East Asia Clean Air Partnership

Building the foundation for collaboration through technical projects and a holistic subregional framework