Peer Review and Comparative Analysis
To operationalize NEA-LCCP and to benefit from the experiences in LCC development policies and plans in North-East Asia, the SOM-21 in 2017 approved the plan for two activity components: (a) peer review at municipal level to support improving low carbon city plans and implementation in selected cities; and (b) comparative study at national level to review government policies on low carbon city development.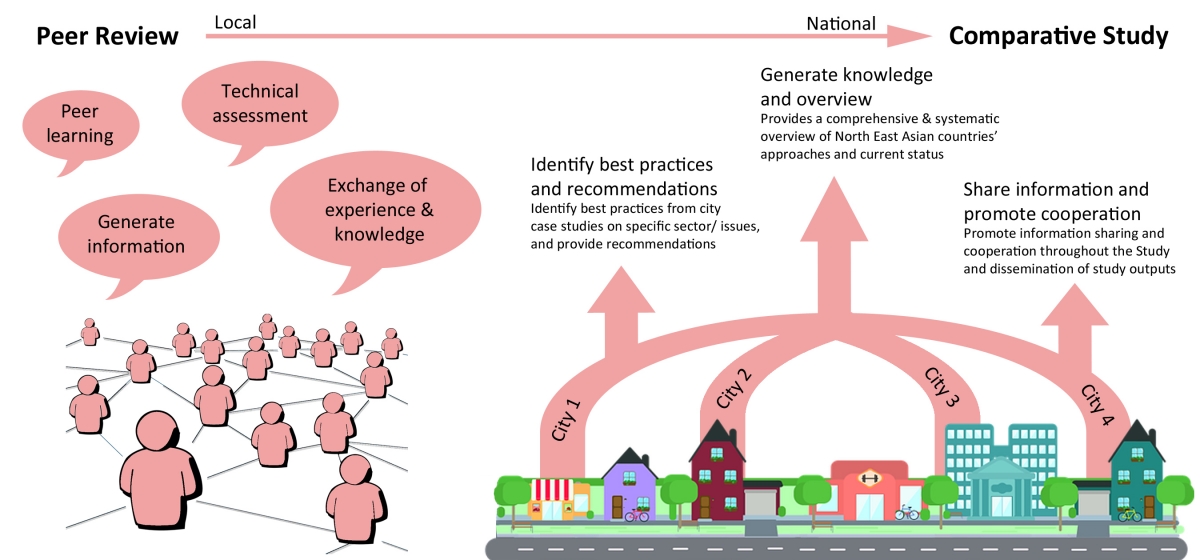 Activities of Peer Review and Comparative Analysis
---
Knowledge Sharing
While many cities in North-East Asia have already initiated low carbon city (LCC) development policies and strategies to reduce GHG emissions, more cities need to commit local actions to carbon neutrality following the goals announced by each national government. To promote knowledge sharing and peer-learning on LCC activities among cities, academia and research institutes, the 1st International Forum on Low Carbon Cities was convened virtually on 23-24 November 2021 in collaboration with Incheon Metropolitan City by bringing multiple partners including Incheon Climate & Environment Research Center, ICLEI East Asia Secretariat, Innovative Green Development Program (iGDP), and the Green Climate Fund (GCF).
---
Capacity Building- Leveraging Science, Technology and Innovation (STI) for Low Carbon and Resilient Cities
Science, technologies and innovation (STI), is a key driving force for advancing climate change mitigation, building resilience and accelerating the transformation towards carbon neutrality. Developing low carbon resilient cities serves as an important pathway for realizing national and local mitigation targets. As North-East Asian countries commit to carbon neutrality (Japan and Republic of Korea in 2050 and China in 2060) and enhance their climate ambition, there is greater need to amplify the ongoing initiatives on low-carbon city development. Various initiatives and studies, including the NEASPEC studies on low-carbon city policies in China, Japan and the Republic of Korea, have shown the wealth of experiences and innovative solutions of local governments in reducing carbon emissions, and encompassing programmes and strategies addressing issues such as air pollution, clean and sustainable energy supply, energy efficient housing, sustainable transport system. Many of these successful experiences highlight the key role of science, technologies, and innovation (STI) to facilitate and accelerate the efforts on building low emission and resilient cities and communities.
In this connection, a training workshop for Mongolia was organized on 16-17 December 2021 via ZOOM in partnership with
•Climate Change Research and Cooperation Centre (CCRCC), Mongolia
•Innovative Green Development Program (iGDP), China
Training materials are available at Science, Technology and Innovation (STI) for Low Carbon and Resilient Cities: Training Workshop | ESCAP (unescap.org)