Back to News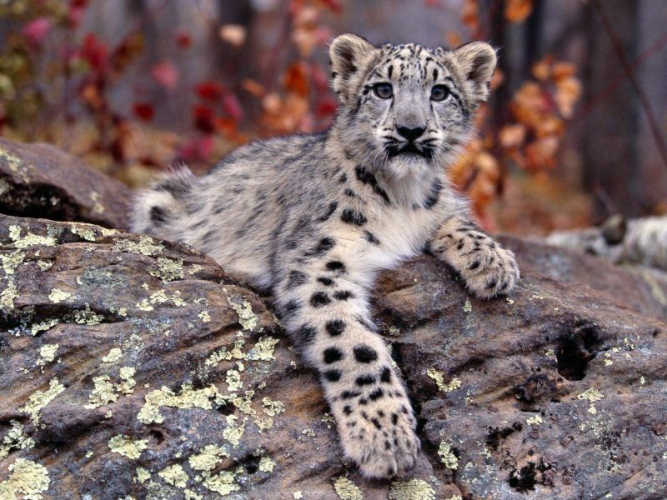 WWF-Russia proved snow leopard migration long distances across the border of Russia and Mongolia
WWF Russia and WWF-Mongolia received the first ever video and photo-confirmation that snow leopards inhabit the Mongolian side of the Ikh Soyon ridge in Khuvsgul aimag (province). There are two snow leopards captured by camera in Ikh Soyon ridge in Mongolian side. Both individuals were confirmed by WWF Russia and WWF-Mongolia experts as well-known males that WWF has been following for ages on a Russian side of the ridge.
Snow leopards live and roam across large swathes of interconnected landscapes of Asia's High mountains in 12 range countries. Incredibly well camouflaged and rarely seen in the wild, not much is known about them and research is scarce. Scientists rely on camera traps and telemetry to understand their home ranges, their behavior and estimate of how many exist in an area, which helps conservationists develop strategies to protect them. 
It was one of these camera traps, installed in Eastern Sayan, that captured the first evidence of the snow leopard in 2014 in the transboundary area across the Mongolia -Russia border. The camera trap captured a male snow leopard called Munko – initially captured by camera trap in Russia and later photographed in Mongolia. 
For solitary and nomadic snow leopards, travelling large distances is not unusual. But travelling across such large distance is not always easy. Some of the snow leopard range countries have volatile border situations. But even without clashes, political boundaries are often marked with fences, which restrict movement of snow leopards like Munko and other animals.  
 "The video and photo confirmation of the snow leopards migrating from Russia to Mongolia and back is extremely important. It proves the importance to collaboration between both countries on scientific and governmental level to save the globally endangered species like snow leopard. The Eastern Sayan population of snow leopards in the transboundary zone of Russia and Mongolia is the only population, which portion in Mongolia totally depends on Russian animals, it's a very isolated snow leopard population from a core snow leopard habitat", says Alexander Karnaukhov, Senior Coordinator, Altai-Sayan Branch of WWF Russia.
"The camera traps helped us understand that the Eastern Sayan population of snow leopards, in the transboundary zone of Russia and Mongolia, is the only population where the number of snow leopards in the Mongolian part of the habitat are less than the Russian part. This means that the snow leopards in Mongolia need to move across to Russia to hunt and mate and need a free corridor to move," added Alexander. 
One of the snow leopards registered on Mongolian side of the ridge by cameras turned out to be "Russian" individual that WWF Russia has been observing for years. It's a male called Munko after the name of Munku-Sardyk (Mong. Munkh Saridag) mountain ridge the individual inhabits, the border area between Russia and Mongolia. This year Munko was the first snow leopard in Russia whose mating call was recorded by WWF. Munko is a strong dominant male in his area. Another one is a snow leopard male called Champion (named by local people after the local sports champion).
Assessment of current status and identification of snow leopards in the Russian-Mongolian border areas is implemented within the frames of the Project "Transboundary cooperation on the conservation of Amur tigers, Amur leopards and Snow leopards in North-East Asia" funded by North-East Asian Subregional Programme for Environmental Cooperation (NEASPEC) in Russia. It is also implemented within the Nationwide Snow leopard population assessment in Mongolia funded by WWF-Netherlands, WWF-Germany and WWF-US.
Source: Key News from WWF Russia 2021 | Global Snow Leopard & Ecosystem Protection Program