Back to Meetings
NEAMPAN Webinar 2023: Accelerating Ocean-Based Actions for Sustainable Development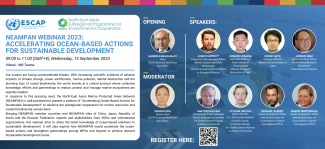 Our oceans are facing unprecedented threats. With increasing scientific evidence of adverse impacts of climate change, ocean acidification, marine pollution, habitat destruction and the alarming loss of coastal biodiversity, the world stands at a critical juncture where collective knowledge, efforts and partnerships to restore, protect and manage marine ecosystems are urgently needed.  
In response to this pressing need, the North-East Asian Marine Protected Areas Network (NEAMPAN) is well-positioned to present a webinar of "Accelerating Ocean-Based Actions for Sustainable Development" to advance the subregional cooperation for marine resources and coastal biodiversity conservation. 
Bringing NEAMPAN member countries and NEAMPAN sites of China, Japan, Republic of Korea and the Russian Federation, experts and stakeholders from NGOs and international organizations, this webinar aims to share the latest knowledge of ocean-based solutions to sustainable development. It also explores how NEAMPAN would accelerate the ocean-based actions and strengthen partnerships among MPAs and beyond to achieve relevant Sustainable Development Goals. 
13 Sep 2023
Mr. Ganbold Baasanjav, Head, ESCAP East and North-East Asia Office
Presentations and Discussions
Mr. Joseph Appiott, Programme Management Officer, Marine, Coastal and Island Biodiversity, the Secretariat of the Convention on Biological Diversity (CBD)
Mr. Hongfei Zhuang, Assistant Professor, First Institute of Oceanography, Ministry of Natural Resources of China
Mr. Hiroki Sato, Assistant Director, Ministry of Environment of Japan
Mr. Jungho Nam, Senior Research Fellow, Marine Policy Research Department, Korea Maritime Institute, Republic of Korea
Mr. Anatolii Kachur, International Project Manager, Pacific Geographical Institute Far Eastern Branch Russian Academy of Sciences, and Ms. Tatiana Orlova, Deputy Director, A.V. Zhirmunsky National Scientific Center for Marine Biology, Far Eastern Branch Russian Academy of Sciences
Mr. Raphael Glemet, Senior Programme Officer, and Ms. Maeve Nightingale, Senior Programme Officer, International Union for Conservation of Nature (IUCN) Asia Regional Office
Ms. Xiaohui Hou, Deputy Head, ESCAP East and North-East Asia Office
Concept note and programme