International Forum on Tiger and Leopard Transboundary Conservation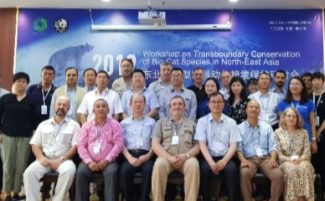 International Forum on Tiger and Leopard Transboundary Conservation was held in the Northeast Forestry University in Harbin, China from 28 to 29 of July 2019. Attended by more than 300 representatives and experts from 19 countries and 12 international organizations, the Forum was jointly organized by the National Forestry and Grassland Administration (NFGA) of China, Northeast Forestry University, North-East Asian Subregional Programme for Environmental Cooperation (NEASPEC), international NGOs and local administrations in China. It extensively covered various issues on big cat conservation, from progress made in each range country to cutting-edge technologies for monitoring and restoration of the species. The forum adopted "Harbin consensus on strengthening cooperation in cross-border conservation of tigers and leopards", which highlighted the needs to establish transboundary protected areas and ecological corridors; improve information sharing mechanisms; and harmonize technical standards for monitoring. 
In parallel, NEASPEC Secretariat and Department of Wildlife Conservation of NFGA jointly organized Workshop on Transboundary Conservation of Big Cat Species in North-East Asia as one of the parallel sessions on 29 July 2019. Recognizing the previous NEASPEC project on scientific assessment in the Sino-Russian border as a good example of transboundary cooperation (for more details, "Transborder Movement of Amur Tigers and Amur Leopards Using Camera Trapping and Molecular Genetic Analysis"), the Workshop sought views from leading scientisits and government officials on a follow-up NEASPEC project to leverage synergies with ongoing initiatives including the Harbin Consensus. Newly identified activities are expected to commence in early 2020, focusing on transborder areas in the Sino-Russian border (Amur tiger and Amur leopard) and Mongolia-Russian border (Snow leopard).