Back to Meetings
Commemorative Event of the 30th Anniversary of NEASPEC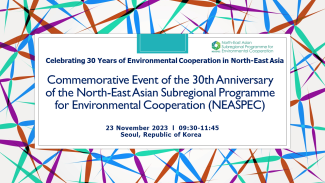 Established in 1993, this year marks the 30th anniversary of the North-East Asian Subregional Programme for Environmental Cooperation (NEASPEC). As a comprehensive intergovernmental cooperation framework addressing environmental challenges in North-East Asia, NEASPEC was established as a follow-up to the 1992 United Nations Conference on Environment and Development (UNCED) or Earth Summit by six member States, namely, China, Democratic People's Republic of Korea, Japan, Mongolia, the Republic of Korea, and the Russian Federation. 
NEASPEC has gradually evolved by developing programmatic areas covering air pollution, biodiversity and nature conservation, marine protected areas, low carbon cities, and desertification and land degradation, expanding partnerships from governments to civil society organizations, and strengthening interlinkages of the work between global, subregional, regional, national, and local agendas. As such, NEASPEC has played a role in addressing the subregional environmental challenges of common interests and bridging the gaps between policy, science, and practice.  
To highlight the strengthening environmental cooperation in the subregion through the years, a Roundtable on Environmental Cooperation in North-East Asia is being organized. This engagement serves as an opportunity for reflections not only on past achievements and ever-changing dynamics faced by NEASPEC but also on future directions. It provides a platform for member states and stakeholders to engage in meaningful exchanges on how NEASPEC can enhance its support in addressing the pressing global climate crises of our time. The discussions are crucial for shaping the future direction of NEASPEC and ensuring NEASPEC continues to play a pivotal role in fostering environmental cooperation, guided by the 2030 Agenda on Sustainable Development, in East and North-East Asia and beyond.  
23 Nov 2023
Opening Remarks
Video: Celebrating 30 years of Environmental Cooperation in North-East Asia
Congratulatory Remarks from NEASPEC member governments 
Roundtable on Environmental Cooperation in North-East Asia
Reflections of NEASPEC member governments: Achievements, progress, and opportunities of NEASPEC
Perspectives of NEASPEC partners: Achievements, progress, and opportunities of NEASPEC