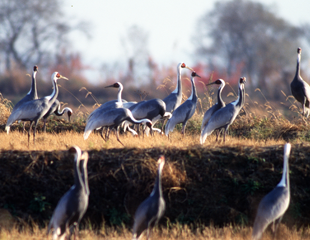 North-East Asia (NEA) provides a complex mosaic of habitats for many critically endangered species. There are over one hundred protected areas along international borders among NEA countries and about two dozen protected areas adjoin neighboring protected areas across country borders. This situation requires transboundary cooperation to achieve goals because domestic efforts require support and input from neighboring protected areas.
NEASPEC member States adopted Saving the Flagship Species of North-East Asia which identified 6 flagship species that are critically endangered and unique in the North-East Asian subregion.
North-East Asia Flagship Species
Click on the images to learn more about each species
Project History
Click on the "+" to learn more about our projects and events
Study on Transborder Movement of Amur Tigers and Leopards using Camera Trapping and Molecular Genetic Analysis
The project aimed to strengthen scientific understanding of Amur tigers and leopards and their habitat conditions in order to protect and to improve existing transboundary ecological corridors. The project carried out camera trapping and molecular genetic analysis of the concerned species through data sharing and joint analysis between national focal points in China (Feline Research Center of the State Forestry Administration) and the Russian Federation (Land of the leopard" National Park, and WWFRussia), thereby strengthening scientific cooperation and foundation for the targeted species.
Click on the image to learn more
Key Outcomes
Click on the image to expand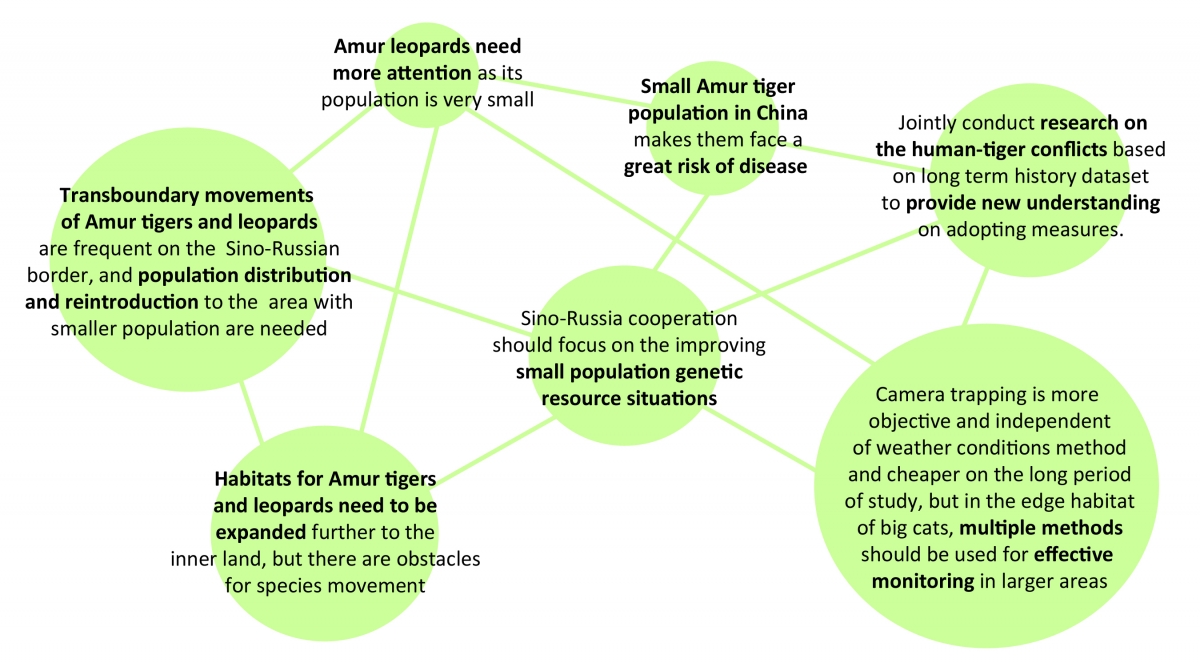 Click on the "+" to learn more
| | |
| --- | --- |
| The camera trapping analysis identified 89 adult leopard individuals– 41 female, 37 male and 11 leopards of unknown sex - inhabiting during 2013-2015 in both China and the Russian Federation. Amongst them, 15 leopards (17% of the total number) have crossed the border of the two countries, ranging 1 – 10 times. The number of tigers during the same period was 45 adults consisting of 20 female, 15 male and 10 tigers of unknown sex. The number of cross-border tigers was 19 (42% of the total number), also ranging from 1 – 10 times. | Click on the image to expand |
| | |
| --- | --- |
| For molecular genetic analysis, China and the Russian Federation collected 207 and 193 non-invasive samples (e.g. hair or feces), respectively. DNA then was extracted from the samples, and extracted DNA samples of the Russian Federation were delivered to China for joint analysis, which was the very first occasion of cross-border shipping of Amur tiger/leopard DNA samples between two countries. With participation of Russian experts, molecular genetic analysis identified 9 (China) and 16 (Russian Federation) leopard individuals, of which 2 individuals were detected in both countries. The analysis also identified 17 (China) and 12 (Russian Federation) tiger individuals, but no single individual was crossed the border. | Click on the image to expand |
Project Photos
Click on the left and right arrows to view photos
1 / 9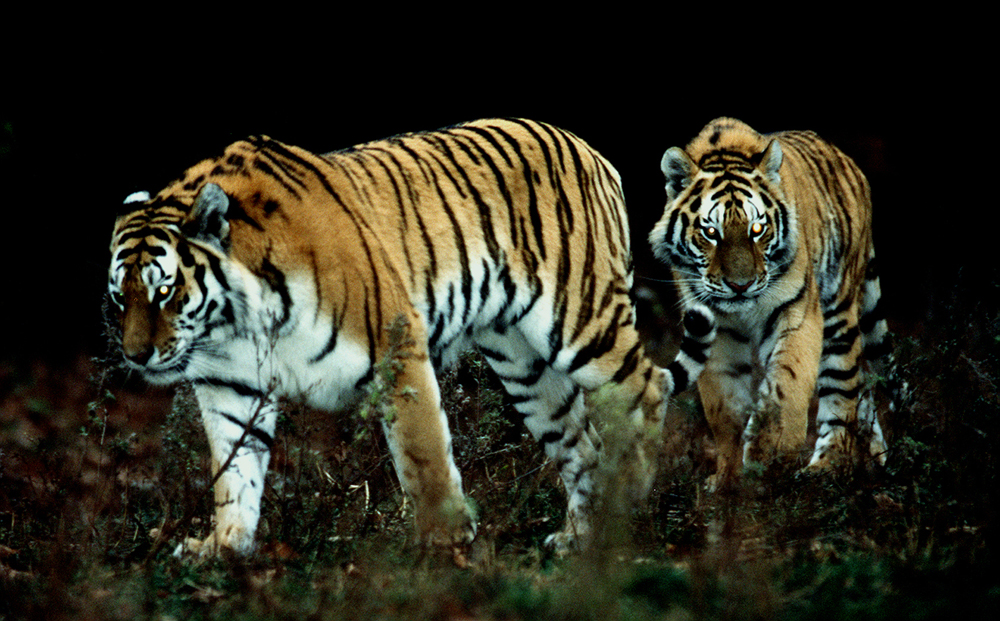 Amur tigers in the wild
2 / 9
Camera trapping step 1
3 / 9
Camera trapping steps 2 and 3
4 / 9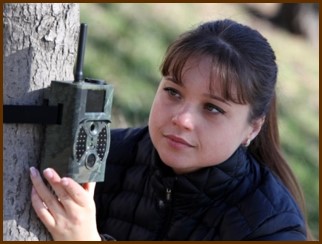 Installing camera trapping technology
5 / 9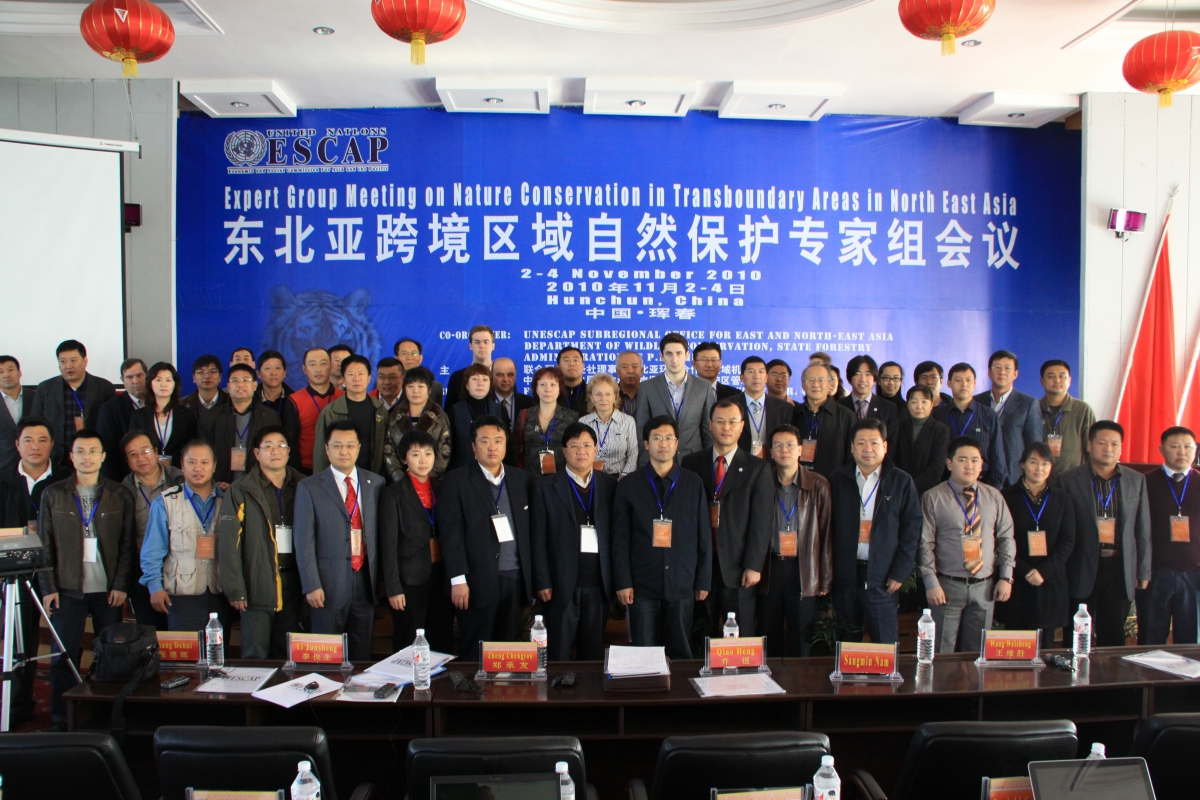 EGM on Nature Conservation in Transboundary Areas in NEA
6 / 9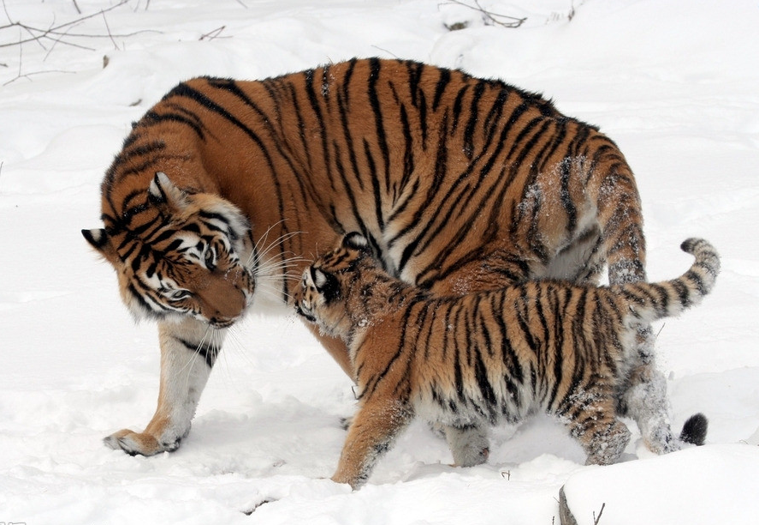 Amur tigers in the wild
7 / 9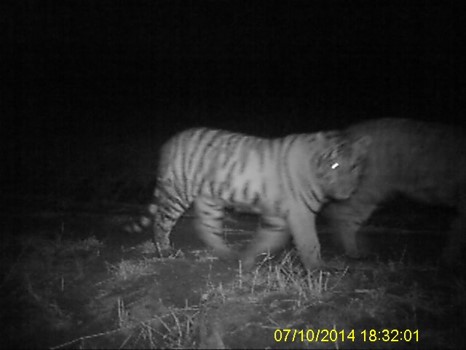 Examples of camera trapping 1
8 / 9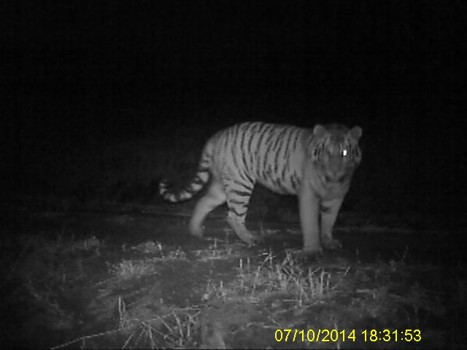 Examples of camera trapping 2
9 / 9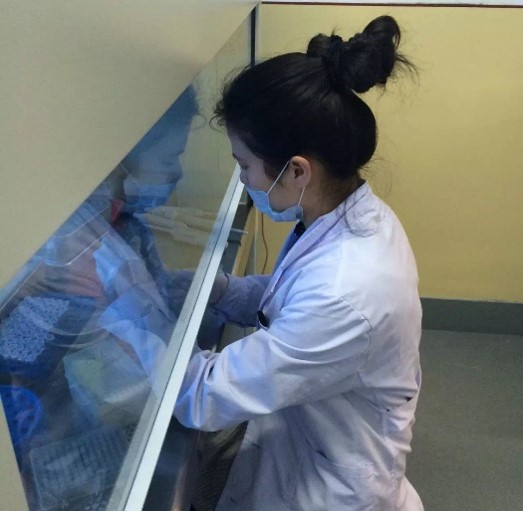 Scientists analyzing collected DNA samples
❮
❯
Conservation and Rehabilitation of Habitats for Key Migratory Birds in North-East Asia with Special Emphasis on Cranes and Black-faced Spoonbills
The project aimed to enhance coordinated mechanisms for target species conservation and to promote transboundary and intergovernmental cooperation. The project undertook (1) scoping survey in eight target sites, (2) joint study in Dauria International Protected Area and the Korean Demilitarized Zone, and (3) capacity building and awareness-raising on habitat management and conservation in 2014-2015. The project had 8 scoping survey sites in 5 different countries.
Click on the image to learn more
Key Outcomes and Recommendations
Click on the image to expand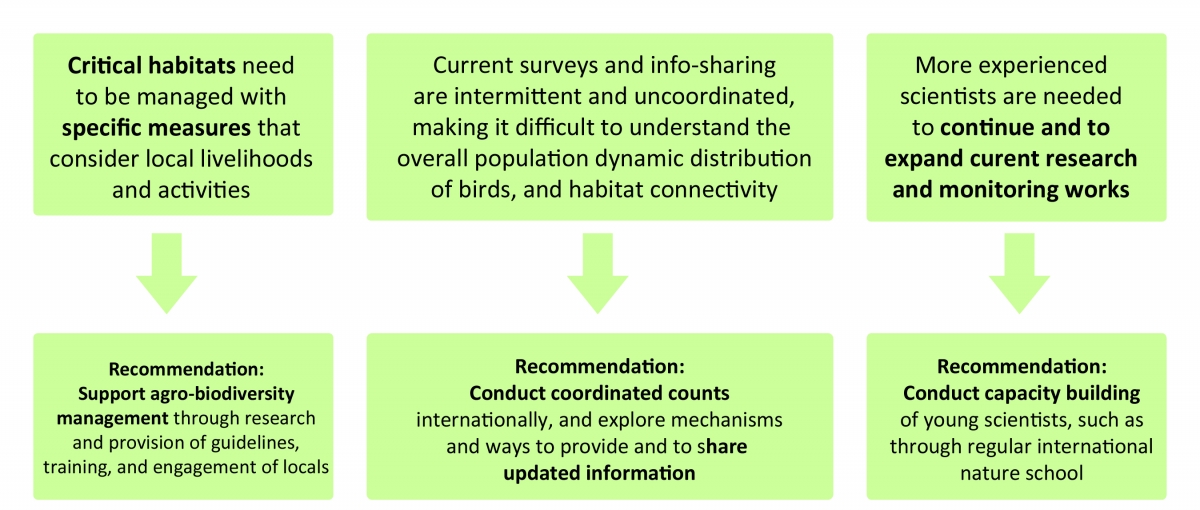 In addition to the study, NEASPEC also conducted field surveys in Rason Migratory Bird Reserve during 26-31 March 2014 in the DPRK.
Project Photos
Click on the left and right arrows to view photos
1 / 9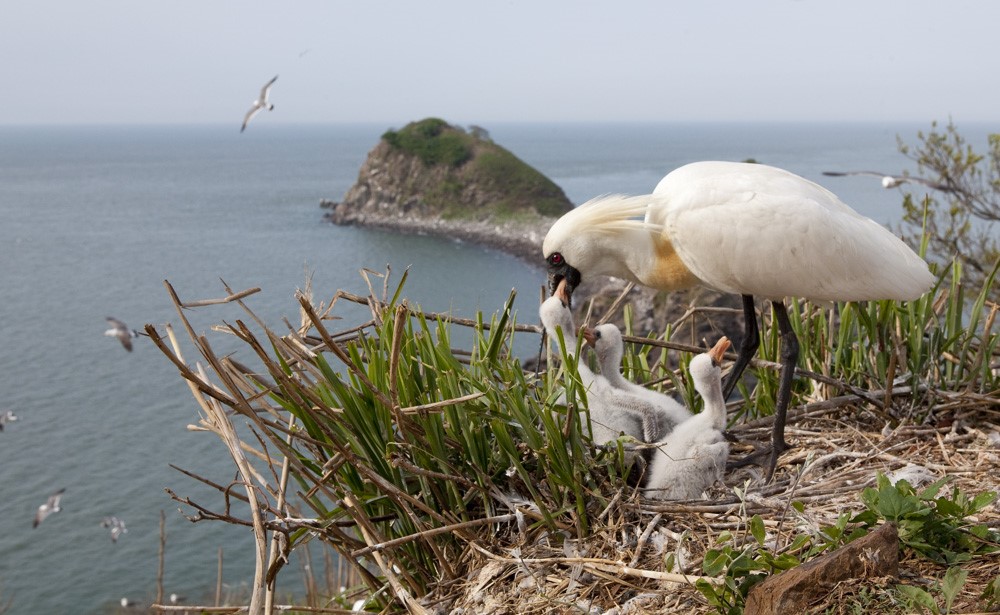 Hooded cranes in the wild
2 / 9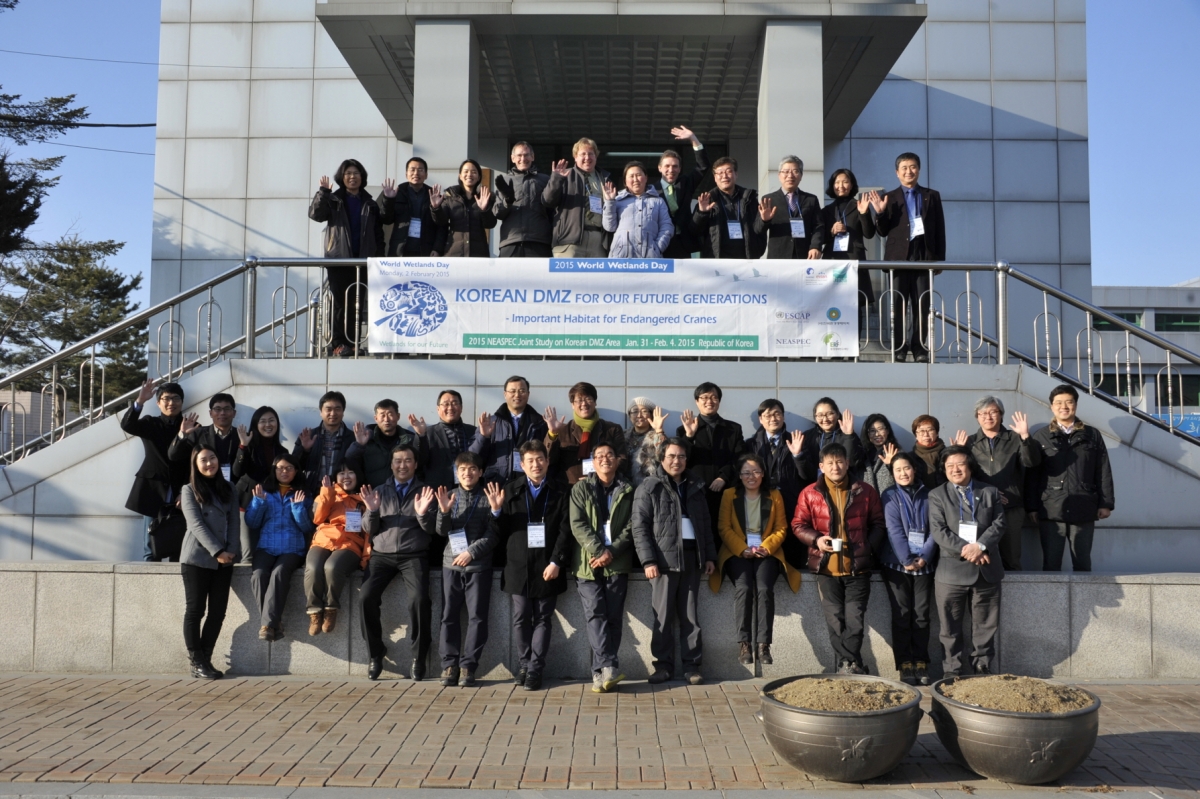 NEASPEC Joint Study on Korean DMZ Area 2015
3 / 9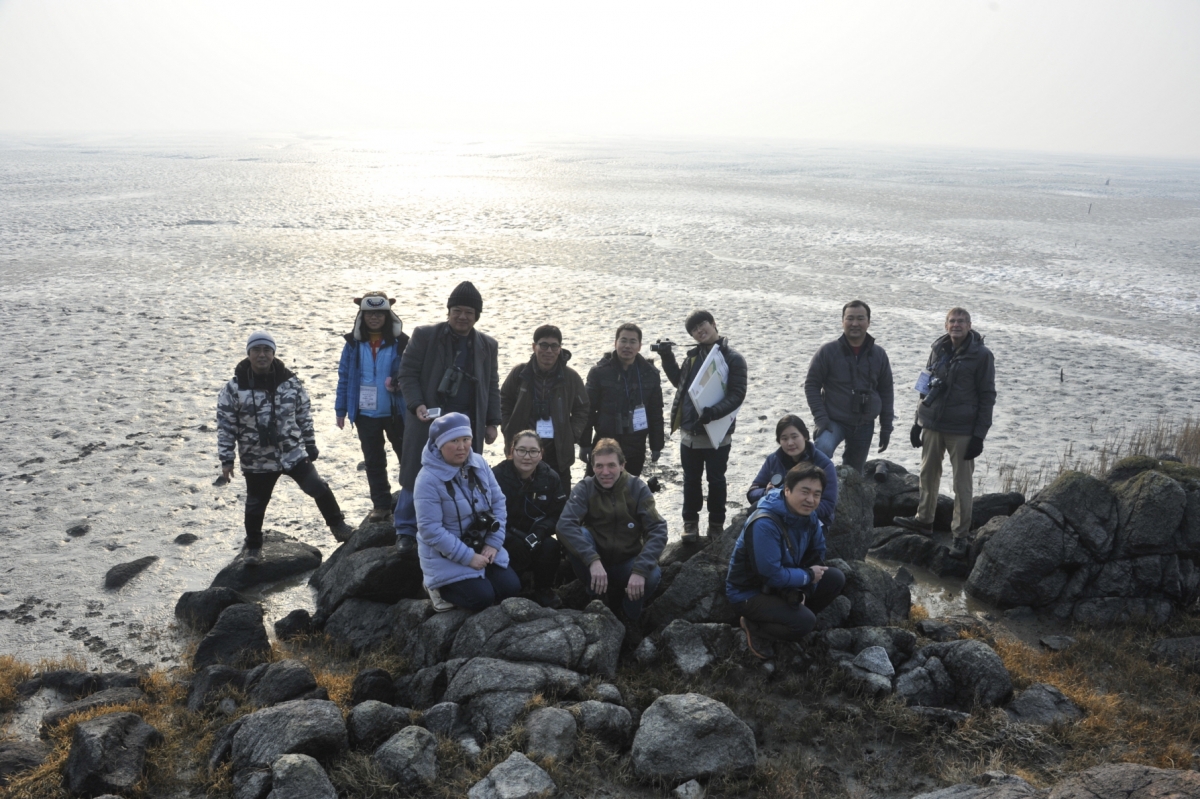 Observing migratory birds
4 / 9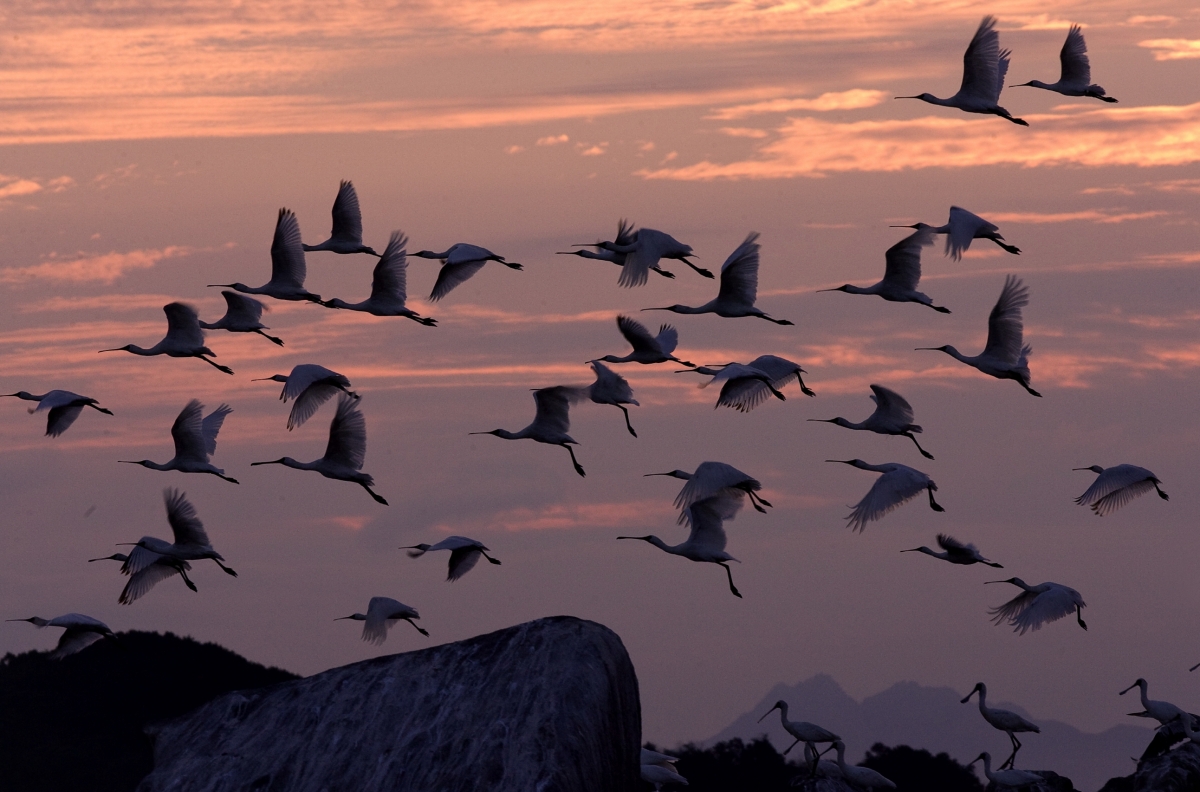 White-naped cranes in the wild
5 / 9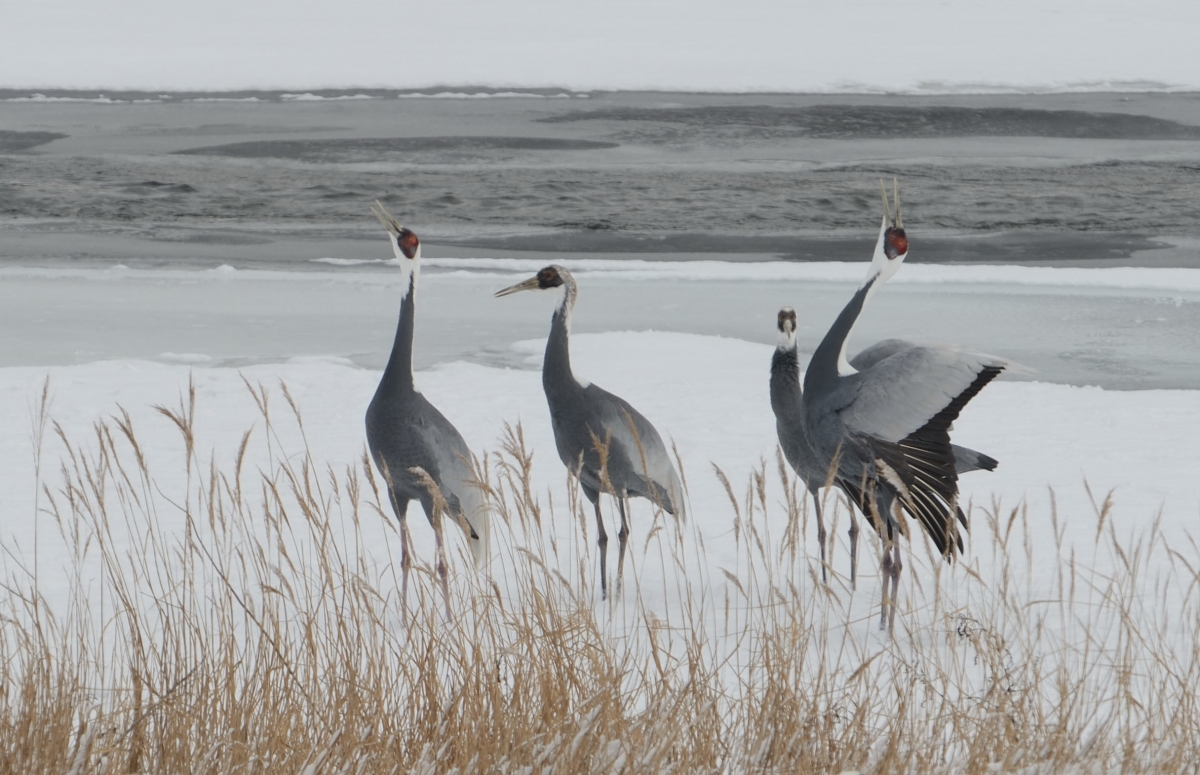 White-naped cranes in the wild
6 / 9
In the field
7 / 9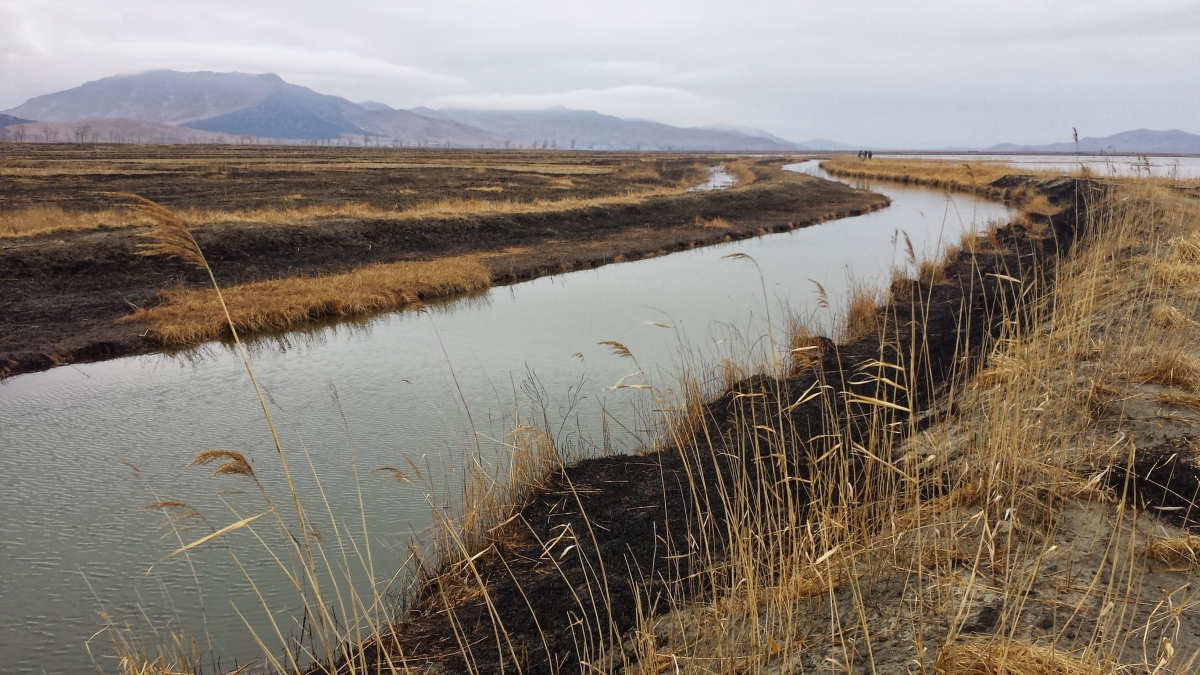 Observing migratory birds
8 / 9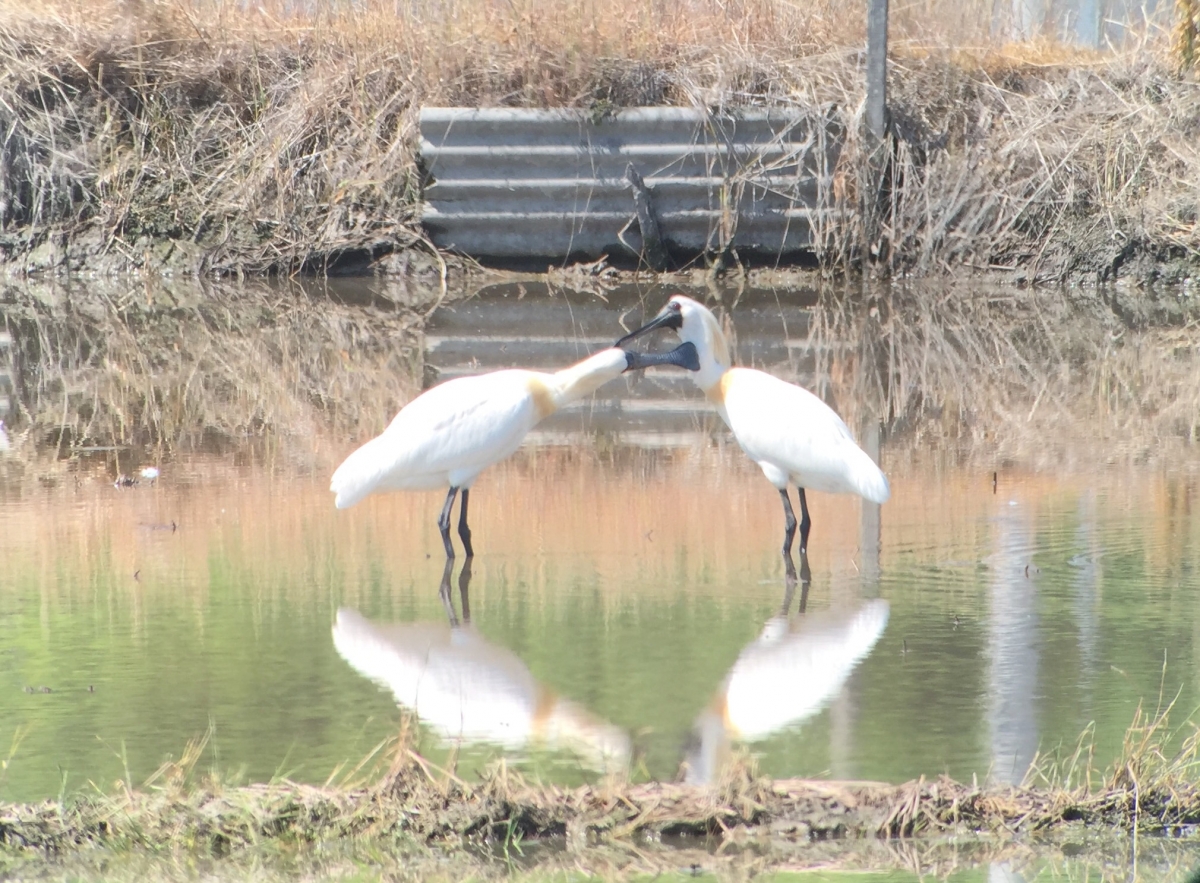 Hooded cranes in the wild
9 / 9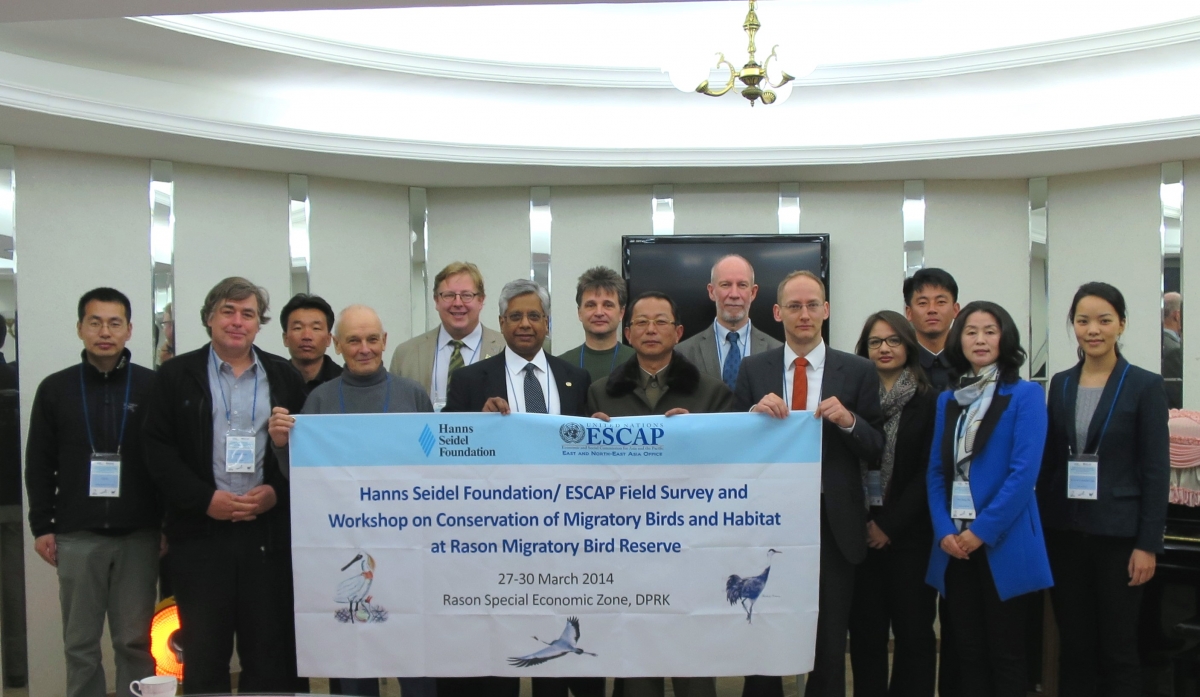 Hanns Seidel Foundation/ ESCAP Field Survey and Workshop on Migratory Birds and Habitat at Rason Migratory Bird Reserve
❮
❯