North-East Asian Marine Protected Areas Network (NEAMPAN)
NEAMPAN was established as the most effective way to further improve the management of various MPAs in the North-East Asia. This subregional MPA network acts as a key subregional platform for information sharing, joint assessment, and monitoring as well as partnership with other regional and global MPA networks.
Objective
To establish an effective, functional representative network of MPAs in North-East Asia for conservation of marine and coastal biodiversity and more efficient MPA management
Click on the image to expand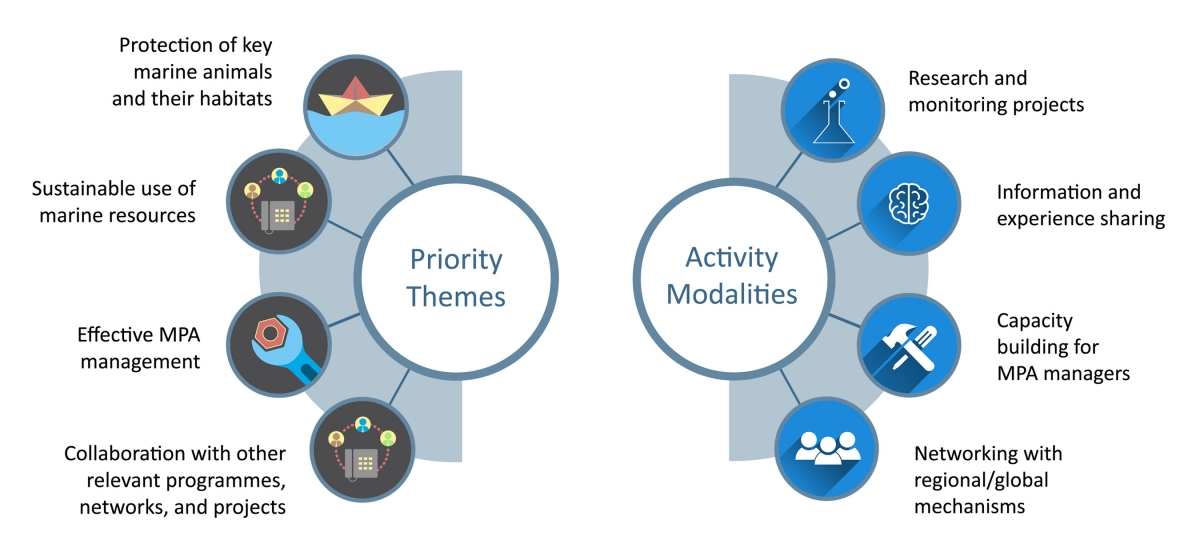 Geographic Scope
Currently member States have nominated a total of eleven sites as NEAMPAN member sites, including six sites from China, one from Japan, two from ROK, and two from the Russian Federation.
Japan
Shiretoko National Park
Republic of Korea
Muan Wetland Protected Area
Gochang Wetland Protected Area
Suncheon Bay Wetland Protected Area
Russian Federation
Far-Eastern State Marine Biosphere Reserve
Sikhote-Alin State Natural Biosphere Reserve

China
Nanji Islands National Marine Nature Reserve
Shankou Mangrove National Marine Nature Reserve
Beilun Estuary National Marine Nature Reserve
National Nature Reserve of Dazhou Island Marine Ecosystems
Sanya Coral Reef National Nature Reserve
Changyi National Marine Ecology Special Protected Area
Click on the image to expand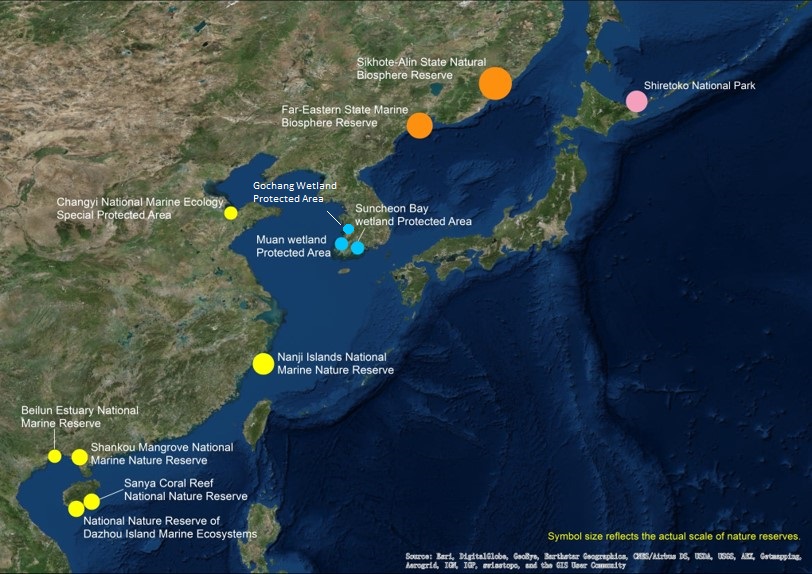 Project History
Click on the"+" to learn more about our past projects and events
The latest proposal of the project, "Strengthening the subregional cooperation through knowledge sharing on sustainable management of MPAs", aims to support the goals of NEAMPAN as well as the Strategic Plan of NEASPEC 2016-2020.
In 2013, NEASPEC SOM-18 launched the NEAMPAN after a series of formal and informal consultations for strengthening subregional cooperation on marine environment. The adopted Terms of Reference (TOR) spelled out the objectives, geographical scope, target MPAs, network membership, activity areas, organizational structure, programme operation, budget, and roles of member States.
In 2011, the Republic of Korea government presented a project proposal on "Strengthening Subregional Cooperation to Address Environmental Challenges related to Transboundary Marine Pollution." In 2012, Expert Consultation Meeting endorsed the proposal for launching the North-East Asian Marine Protected Areas Network (NEAMPAN).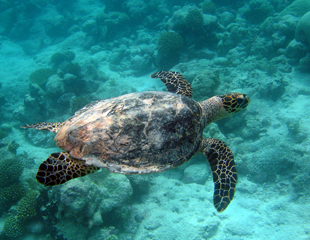 Oceans cover over 70% of the Earth's surface area and are the major storehouses for heat from the sun, various kinds of minerals and living organisms, and food resources. According to the Millennium Ecosystem Assessment, the world's oceans are highly threatened due to pollution, eutrophication, overfishing, and climate change.
Marine Protected Areas (MPAs) are "any area of intertidal or sub-tidal terrain, together with its overlying water and associated flora, fauna, historical and cultural features, which has been reserved by law or other effective means to protect part or all of the enclosed environment" (International Union for Conservation of Nature (IUCN)).
There are large number of MPAs in North-East Asia, with varying sizes and ecological characteristics as well as the way they are managed. Most of them having been designed only within the last decade or two. Considering the transboundary character of marine ecosystems, NEAMPAN was established to improve the management of various MPAs in the subregion by sharing experiences and networking of MPA managers.
Hover over the countries to learn more
Source: United Nations Environmental Program and the World Conservation Monitoring Centre, as compiled by the World Resources Institute, based on data from national authorities, national legislation and international agreement
| | |
| --- | --- |
| NEASPEC facilitates cooperation among various MPAs in North-East Asia and helps the subregion move towards collaborated governance on transboundary marine environmental issues, by strengthening the role of MPAs in the conservation of marine biodiversity and with the aim of reaching ecologically coherent network of well-managed MPAs. | Strengthening collaborative governance on marine environment and MPA management |